廠商資訊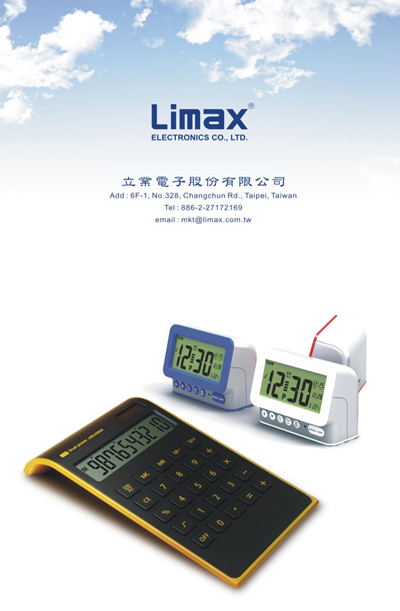 立業電子股份有限公司
負責人:
瞿訓愷
E-mail:
william@limax.com.tw
聯絡電話:
886-2-27172169
傳真電話:
886-2-27172139
通訊地址:
台北市中山區長春路328號6樓之1
公司網址:
https://www.gift.com.tw/list_03.php?id=63
公司簡介

From calculators to databanks, from clocks to radios, Limax Group believe that each electronics device could be greater than "0" and "1" or "negative" and "positive." Indeed, it should have its own character and style. To put them into the language we know, it means elegant and charm. As the establishment of the first self-owned tooling factory and the largest scale of factory real locations, Limax group has upgraded and raised its capabilities of production in terms of quality control and resources centralization. We are aiming to make ourselves as an electronics device manufacturer offering "one-stop ordering service" to the people around the world. Customers will set them free to execute OEM/ODM projects relying on our modern technology and firm production capabilities.
公司產品